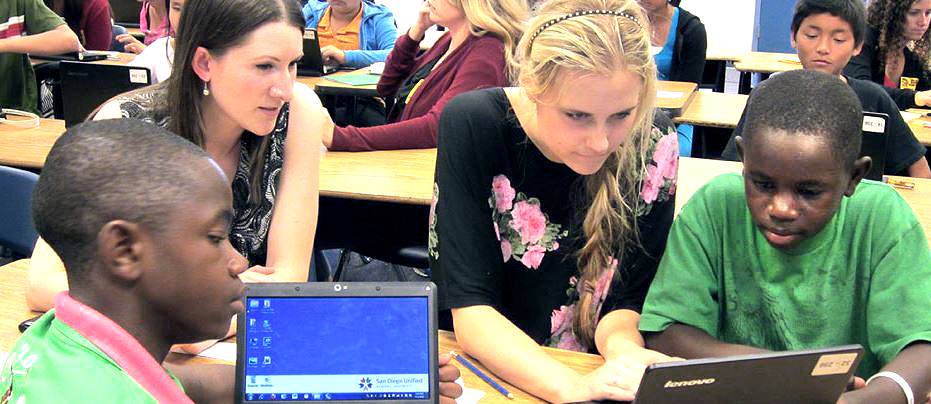 Partners at Learning
UC San Diego undergrads connect with local underserved youth
A preschooler needing extra help, a teen from a military family or a high school student contemplating college—these are just a few examples of the local, underserved students who are paired with UC San Diego undergraduates in the Partners at Learning (PAL) program. The UC San Diego students serve as tutors, mentors and positive role models. Yet, the undergraduates often find they learn just as much from their young partners.

Led by the Department of Education Studies, PAL enables students to actively engage with San Diego's diverse communities and become powerful advocates for higher education. Designed as an immersive service-learning program, nearly 500 undergraduates participate each year, committing more than 40 hours or more in their assigned classroom each quarter.

"This program is the reason why I work in the early education field," said Oliver LaPuebla, who was majoring in structural engineering when he began volunteering with PAL. "I felt energized through my experiences working with youth in the PAL program. I realized I looked forward to working with kids more than I had any eagerness to become an engineer."

Believing he could make a difference in children's lives, LaPuebla enrolled in the Master of Education program at UC San Diego after completing his undergraduate degree. He now teaches preschoolers at a child development center in National City—the same school where he completed his PAL volunteer hours.

LaPuebla is just one example of the many undergraduate students who find the PAL experience to be personally enlightening as well as impactful for local youth. Begun in 1991 as a partnership between the Teacher Education Program (now the Department of Education Studies) and Marshall College, PAL was created to provide undergraduate students with an opportunity to connect with the local community and learn about issues surrounding social justice, equity and inclusion. Students are taught to serve as partners in the efforts to improve educational access, rather than regard their volunteer work as charity. Working with low-income students and English language learners, as well as military connected students, UC San Diego undergraduates discover the significant impact they can have by befriending, tutoring and encouraging students who may lack college role models in their lives.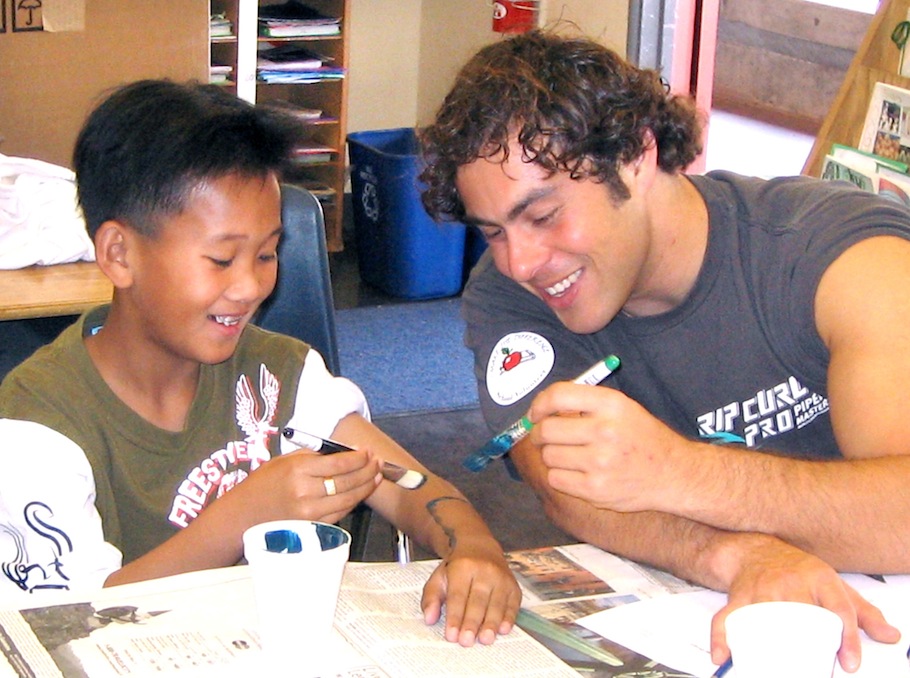 Connecting with their mentees through collaborative activities, UC San Diego PAL students work with local underserved students to explore new ways of learning, like integrating science and art.
"I have been approached countless times by parents who tell me that I've been an important role model in their child's life, as well as former students who express how much I've helped them," said LaPuebla.
Now the largest service-learning program on campus, PAL is open to undergraduates of all disciplines and fulfills several college service and diversity graduation requirements. Students enroll in mentoring or tutoring courses that are structured to include the study of educational theory and child development as well as a practicum consisting of volunteer time at a local school. Within their first two weeks students are matched with underserved Pre-12 schools across the county—from the Marine Corps Base Camp Pendleton to the San Pasqual Indian Reservation and charter schools like The Preuss School UCSD—where they begin by observing the teacher and becoming part of the classroom community. They work up to creating their own projects and leading their own group or class activities, including creative lessons through Artsbridge—a PAL course designed to increase visual and performing arts in the classroom.
"Students enroll in PAL courses for a variety of reasons—they may have a general interest in working with kids; some may be considering the education studies minor or graduate school; others would like to prepare for parenthood," said Caren Holtzman, PAL program coordinator and lecturer. "We embrace all students who have an eagerness to serve in local classrooms. In the end, we hope the PAL experiences contribute to UCSD students becoming compassionate leaders, responsible citizens and culturally competent adults."
Through PAL, UC San Diego students are encouraged to probe their biases and cultural beliefs as they interact with youth in classrooms. They learn that a child's socioeconomic background does not define their future potential. Each week, students are asked to reflect upon their mentoring and tutoring experiences and make connections with their readings. They bring questions and revelations to class discussions and are expected to contribute to conversations about both child development and issues of educational inequities.
"It is incredible to see the shift in thinking that happens when students begin to question their assumptions about how underserved students learn and develop in the context of the communities they are brought up in," said Alison Wishard Guerra, PAL professor. "Many students have cited that before enrolling in PAL, they had never actively participated in class discussions, written a research paper or knew of the diverse demographics that make up our city."
At the end of each quarter, UC San Diego undergraduates in the PAL mentoring class invite their mentees to campus to explore where they go to school. It is an eye-opening experience for the students—and their parents—many of whom have never visited a university campus. The field trip is meant to impart the idea that learning continues and to motivate the students to pursue higher education.
"Partners at Learning makes higher education more tangible for local students and communities," said Lapuebla. "UC San Diego students share their knowledge and experiences, inspiring young kids with their ambition and determination to better themselves and the world around them."
To learn more about PAL, visit eds.ucsd.edu/pal.