About the School of Social Sciences
Research, teaching and service in the public interest – that's what drives UC San Diego's School of Social Sciences. We do the science of society. We focus on some of the most pressing and important issues of our time (most of the time). We do things a little bit differently, and we make a big difference. That's for sure.
There are 16 departments and programs that make up the School of Social Sciences at UC San Diego. Together, we do work that matters, now and for the long term. Founded in 1986 with the goal of increasing interdisciplinary collaboration, our school celebrates diversity of ideas and of peoples.
We take seriously our mission to educate citizens of the future. We are committed to serving society.
Note: Until 2022, the School of Social Sciences was known as the "Division of Social Sciences."
---
Did you know?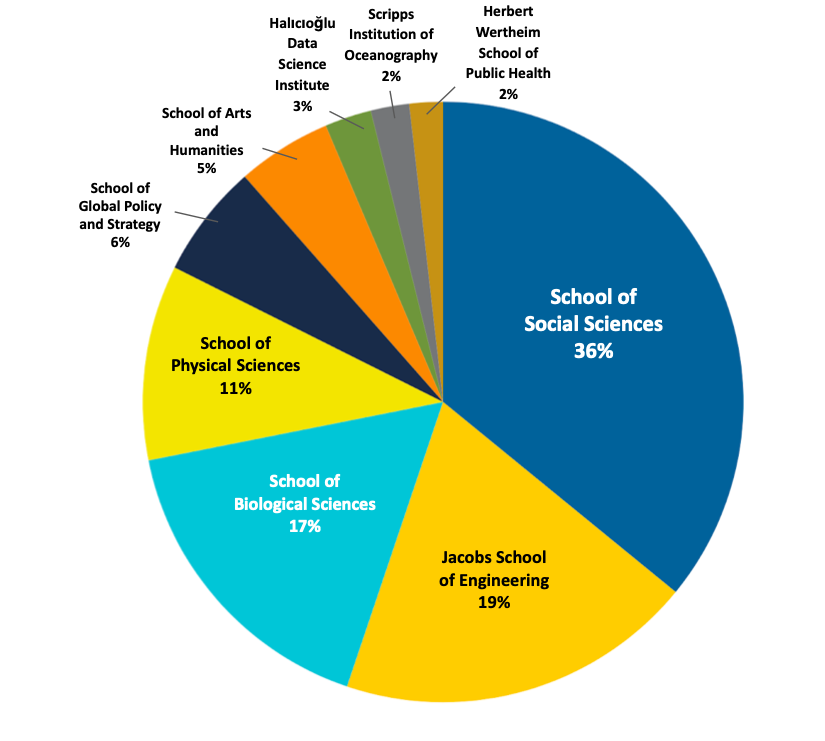 More than 1/3 of all undergraduate degrees awarded at UC San Diego in 2021 were in the Social Sciences.
Faculty members have included three Nobel Laureates and six MacArthur "Genius Grant" winners.
Our students and faculty have connections to almost 500 community programs in Southern California and beyond.
Our Department of Cognitive Science was the first of its kind in the world.
The Department of Ethnic Studies was the first in the country to study race and ethnicity comparatively, relationally and globally.
In the San Diego region, 15 current and former school district superintendents are UC San Diego alumni – nine of whom are Education Studies alumni.
One of the longest-running primate studies on record, focused on baboon society in Kenya, is headed by a professor of Anthropology.
A UC San Diego sociologist was part of the Ford Foundation project to revive the discipline of sociology in China.
An alumnus of Linguistics created the languages on the hit TV series "Game of Thrones."
By the numbers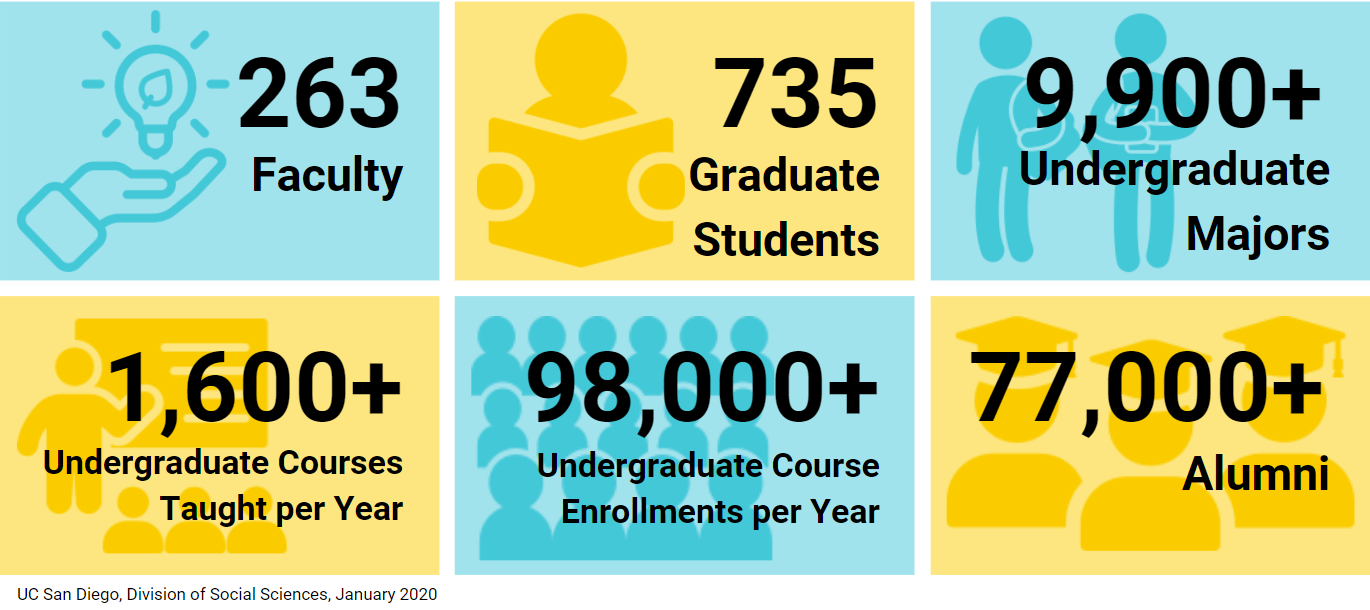 Preserving endangered languages and cultural sites
Removing barriers to upward mobility
Increasing civic engagement and electoral representation
Harnessing the power of technology and social networks
Leveraging community partnerships
Improving educational outcomes
Discovering secrets of the brain
Helping reduce harmful social practices
Reinventing policy solutions
Addressing disparities
Cognitive Science
Ranked among top 5 percent of programs in the field (National Academics)
Communication
Ranked 2nd among U.S. programs in the area of Critical Cultural/Media Studies (National Communication Association)
Ranked 5th in diversity and 12th in research output (National Communication Association)
Economics
Ranked 14th best program overall (U.S. News and World Report)
Econometrics, Development Economics, Public Finance, Labor Economics, Microeconomics, and Macroeconomics are ranked 7th, 11th, 14th, 17th, 18th, and 18th respectively (U.S. News and World Report)
Psychology
Ranked 12th best program overall (U.S. News and World Report)
Behavioral Neuroscience ranked 1st (U.S. News and World Report)
Ranked 4th for institutional research productivity (Association for Psychological Science)
Political Science
Ranked 6th best program in the world (London School of Economics and Political Sciences)
Ranked 8th best program overall (U.S. News and World Report)
International Politics, Comparative Politics, American Politics and Political methodology are ranked 5th, 10th, 13th and 17th, respectively (U.S. News and World Report)
Learn more about all our degree programs and research centers.