Advancing Racial Justice
Research-Action Projects to Address Systemic Racism and Social Inequities 
As racial-justice protests swept the nation in 2020, the UC San Diego Division of Social Sciences sought to respond with action. With the support of our alumni and friends, we pledged $300,000 over the next three years to fund work that advances racial justice and equity on the local, state and national levels. 
We are working to provide representation and visibility for marginalized populations by supporting crucial research partnerships that center the perspectives and experiences of Black, Indigenous and People of Color communities. 
The selected projects contain both action and research components. With the assistance of UC San Diego students, faculty members are conducting evidence-based research to identify and analyze systemic racial problems and are actively collaborating with community organizations to address and tackle racism. 
The following five projects have been awarded funding.
Healing Indigenous and Refugee Trauma 
Shaista Patel, Yen Espiritu, Ross H. Frank, and Andrew Jolivétte - Department of Ethnic Studies 
Families who generations ago toiled through distressing upheaval from war, violence, oppression and racism, and other events, may experience psychological harm and rippling iterations of trauma. Through community-based collaboration, this project aims to hone in on intergenerational trauma and inter-community strategies for healing among Indigenous and refugee youth in San Diego.
Project title: "Intergenerational Trauma, Health, and Healing: Indigenous and Refugee Communities in San Diego"
Advancing Racial Justice via Social Media
LaGina Gause and Marisa Abrajano - Department of Political Science 
Social media has served as a platform for political engagement, organization and activism for years, especially for Black Americans. Using CrowdTangle, a public content insights tool, a team of political science faculty and graduate students are collaborating with Black Lives Matter: San Diego and March for Black Womxn to provide data-driven research on messaging techniques related to anti-Black racism. 
Project title: "Best Practices for Advancing Racial Justice via Social Media: A Partnership Between UCSD Political Scientists and San Diego Grassroots Organizations"
Mapping Institutional Racism at the US-Mexico Border 
Abigail Andrews - Department of Sociology 
Black migrants along the U.S.-Mexico border encounter police mistreatment, discrimination from locals and an imposing language barrier. In partnership with Espacio Migrante, an immigration rights nonprofit, this project spotlights Black migrants' experience with institutional racism amidst current U.S. and Mexican migration policies.
Project title: "Black Migrant Lives: Mapping Institutional Racism at the US-Mexico Border"
Recognizing Pain in People of Color 
Virginia de Sa - Department of Cognitive Science 
Racial bias may skew one's recognition of pain in BIPOC patients which leads to biases in pain treatment decisions. The pain of Black Americans is systematically underdiagnosed and undertreated, compared to the pain of White Americans. Using state-of-the-art computer vision technology, this project investigates and helps remediate biases in pain recognition in 40 pre-dental students treating BIPOC dental patients.
Project title: "Using Computer Vision to Investigate and Improve Empathy in Recognizing Pain in People of Color"

Building Racially Just Futures
Saiba Varma, Keolu Fox, and Simeon Man - Departments of Anthropology and History
This project confronts complex issues entangled with institutionalized racism. Combining expertise in medical anthropology, indigenous data sovereignty and genetics and the racialized history of America, researchers explore the ways BIPOC communities combat the digital desecration of ancestral remains (biocolonialism), policing and healthcare exclusions.
Project title: "The People's Workshop: Building Racially Just Futures"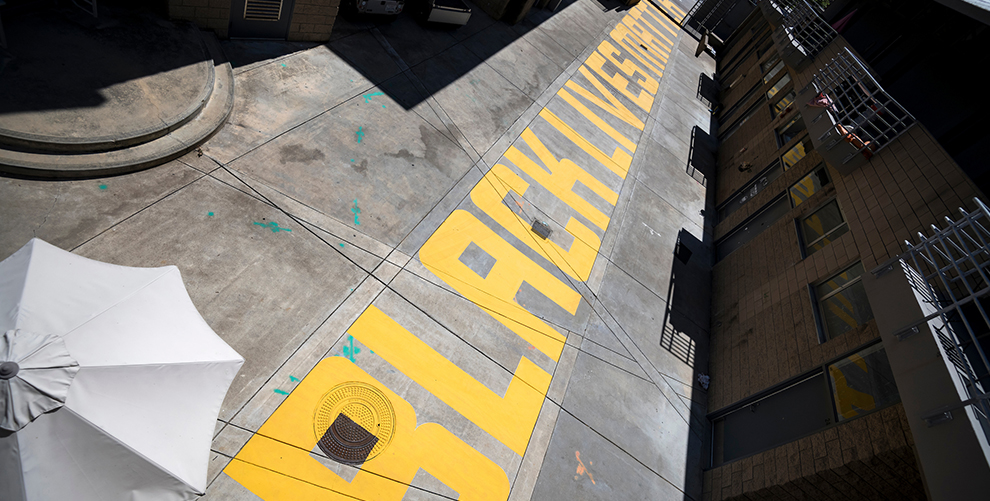 Image credits, from top: Painted hands mural photo by Tim Mossholder/Unsplash; photo of refugee boy on by bike by Barbara Zandoval/Unsplash; photo of "Black Lives Matter" on UC San Diego walkway by Erik Jepsen, UC San Diego Communications.