Education Studies' Hayley Weddle Named 2019-20 Student Regent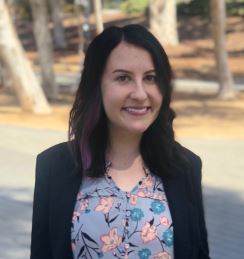 Hayley Weddle, a doctoral student in the UC San Diego Department of Education Studies, has been confirmed as the University of California student regent for 2019-20.
The 45th student regent since the position was established in 1975, Weddle is the first UC San Diego student to serve in the role since 1982.
"I bring to this role a strong commitment to ensuring the university promotes access and affordability for all students," she said at the July 2018 meeting of the UC Board of Regents when she was confirmed. "…I'm especially passionate about promoting basic needs security across the system, as well as addressing and preventing sexual violence and harassment."
Weddle will serve as the student regent-designate for the coming year, able to participate in all deliberations. She will have voting privileges when her one-year term begins in July 2019.
Video of the full remarks is here or just below (with Weddle at approx. 1:10).
Weddle graduated summa cum laude with dual bachelor's degrees in sociology and economics from UC Santa Barbara, and earned a master's in postsecondary educational leadership from San Diego State University. She is expected to complete her doctorate in education studies in spring 2021.
Weddle is currently the chief of staff for the UC San Diego Graduate Student Association. She is also the co-chair of the UC San Diego Basic Needs Committee, which develops strategies to address student food and housing insecurity. Weddle additionally serves as a member of UC's system-wide Student Advisory Board, providing student and campus perspective on recommendations and discussions about Title IX policies, procedures and support for the UC community.
Previously, Weddle served as an adviser and operations manager for the Associated Students of UC San Diego and as a member of UC San Diego's Student Fee Advisory and Community Standards boards. She also sat on an advisory board for the opening of a new K-8 school in the greater San Diego area, recommending curriculum and best practices to address gender identity, sexual orientation and sexual harassment issues.
"As a Ph.D. student studying transformative practices in education, I am trained to approach issues from an equity lens, evaluating how students from historically underserved backgrounds will be supported by policies and initiatives," Weddle said. "I look forward to leveraging my academic training and advocacy experiences to serve all UC students."
Regents meeting video is here: http://bit.ly/UCRegentsJuly2018
More: http://bit.ly/UCStudentRegentUCSD   
Photo by John Weng